In about 1900 the Derby Road Land Society bought a large parcel of land to the east of the village.  The Society developed Shirley Street and extended Derby Road (later Draycott Road, which used to end around Plant Lane) with several new streets:
College Street (now Grosvenor Avenue)
Beaconsfield Street (now called Clarke Drive)
Gladstone Street (now Northfield Avenue)
Towle Street
Firs Street
Arnold Avenue
Meanwhile, Long Eaton, which had quickly expanded from a hamlet to an industrial town with the Victorian boom in machine-made lace, experienced a huge spurt in growth in the latter half of the 19th century.
Elected Parish and District councils had been formed in 1894, with Sawley joining Shardlow Rural District Council.
In 1919 the Long Eaton Urban District Council (LEUDC) made its first bid to take over New Sawley and Wilsthorpe, but this was rejected.  Long Eaton did not want to take over Old Sawley, which had virtually no mains water, electricity, fire brigade, recreation ground or library; and most houses had pail closets.  However, in 1921 a large part of New Sawley and Wilsthorpe did go into Long Eaton.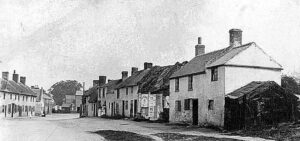 By the 1930s many of the older houses in Old Sawley were poorly maintained and looked increasing outdated damp and overcrowded compared to houses in New Sawley and Long Eaton.  In 1931 Shardlow Rural District Council condemned half the houses in Old Sawley.  Out of 230 houses, 110 were judged unfit for habitation.  In the centre of the village four back-to-back houses formed a square, with only a door for each.  Near the church a single house had been converted into 8 tiny houses, served by a single tap and with no sinks or drains. 
The electricity supply only reached the original village in 1932.  In 1934, Old Sawley was incorporated into the Long Eaton urban district, though much of the field land went to Breaston and the South-east Derbyshire rural district.
In 1935 LEUDC decided to demolish 17 houses in Chantry Close, 7 in Town Street, 15 in Cross Street and 3 in Plant Lane, all of which were described as unfit for human inhabitation.  Other buildings demolished by 1942 included 'Pump Row' (opposite the Nags Head), cottages alongside the Bridges (past Church Farm) and the bridge toll houses.
In 1955 LEUDC decided to demolish another 6 houses in Chantry Close, to complete the planned bungalows (finished in 1957).  A plan to clear another 14 houses in East End was deferred.  In 1961 the council decided numbers 10-22 Cross Street were unfit and agreed to rehouse the tenants and allow Carters to demolish them.   The Council also tried to compulsory purchase a block of 4 houses at the entrance to East End.
In 1974 the Long Eaton itself disappeared as a local authority and was merged with Ilkeston and some of the villages in between into the Borough of Erewash.  This fragmented the cohesion of Long Eaton as a single district, and Sawley reclaimed its distinct identity.
In the year 2000 Sawley was again given its own Parish Council.