This was originally called Derby Lane and roughly followed the line of the Roman Road from Derby.  It was changed to Draycott Road in 1935 to avoid confusion with Derby Road in Long Eaton. 
At this time the road stopped at about Firs Street and continued as a footpath to Nottingham Road.  The path angled across the field to join the twitchell from the corner of Firs St/Arnold Ave just before the Lock Lane junction.
In the late 1940s, Draycott Road was joined up to Tamworth Road and Portland Road, Grosvenor Avenue, Northfield Avenue and Rufford Road were completed.
Since the Church Wilne Reservoir opened in 1967, Draycott Road no longer leads to Draycott, only to Breaston.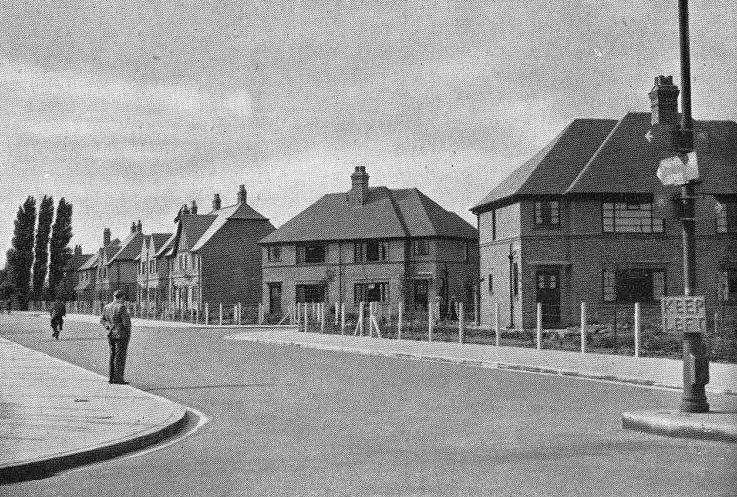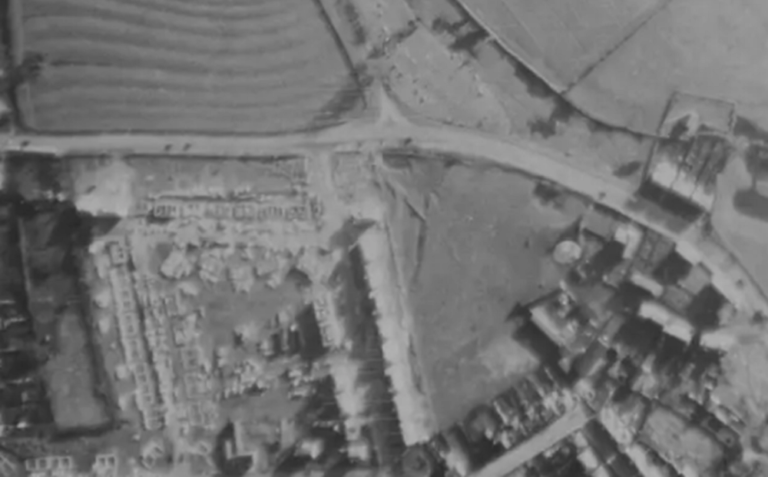 This aerial photo (taken Dec 1946) shows the Draycott Road joined to Tamworth Road and Portland Road under construction.  A year earlier another it was just fields. 
For the full-size air photo and photo credits see the bottom of this page. 
Also visible on the full-size photo are a steam train on the Weston on Trent Line , the Roman fort and medieval fishponds near the church, and what looks like the remains of another ox-bow (i.e. an old course of the Trent) just Northeast of Lock Lane.  Also note the medieval ridge and furrow lines in the field between Tamworth Road and where Kingsley Crescent.

The Sawley Memorial Hall committee was formed in 1944 to create a war memorial that would also be a practical benefit to the community. 
Cecil Kingscott was the secretary from 1944 before succeeding Cyril Reedman as chairman in 1958.  Cecil had been at school with Mary Clegg and persuaded her son, the actor Richard Attenborough, to open the 1948 Sawley Carnival.  This was the first post-war carnival, revived to raise funds for the hall.  Richard's wife, actress Sheila Sim, joined him for the 1949 carnival.
The hall is a 'Reema' building, as used for many public buildings at the time.  It consists of pre-cast concrete panels with windows, plumbing and wiring ready-installed.  The wooden roof was covered with rubber slates.
Richard Attenborough and Sheila Sim returned in 1958 to perform the opening ceremony which was televised on ATV (the Midlands ITV service 1956-82).
The Memorial Hall still stands on Draycott Road.