The border between Old Sawley and New Sawley has never been wholly fixed.   On this 1947 map it seems clear that Old Sawley included Draycott Road and the short roads attached to it, whilst New Sawley began at Shaftesbury Avenue.  But the map was already out of date, as by the late 1940s a new housing estate had filled the gap, with Northfield Avenue connecting Shaftesbury Avenue and Draycott Road.
Until 1921, the Eastern boundary of Sawley parish started at the ferry at Trent Lock  (although the lock itself and the pubs were in Long Eaton).  The boundary then ran up the canal to the Royal Oak (on Tamworth Road, near the canal bridge; recently replaced by a care home) around the West side of the secondary (Roper) school,  across West Park (the treelines marking the boundary are still there), to the West of Trent College, to the East of Wilsthorpe School and up the original line of Bostocks Lane (East of the Novotel and just beyond the M1) to the edge of Risley parish, then back South along the edge of Breaston parish.  Wilsthorpe was always a separate hamlet, so by 1920, New Sawley was (roughly) the area beyond Derby Lane (Draycott Road) up to the Royal Oak, including the development around Birchwood Mills and the station.  In 1921 Long Eaton council took control of New Sawley and Wilsthorpe – in fact most of Sawley, apart from the old village and Draycott Road (see map). 
When Sawley regained its own council in 2000, the boundary was drawn along the railway line from the M1 to Red Hill.  So Trent Lock (which was in Long Eaton) and the area around Hey Street and the former New Sawley Post Office (a bit of a clue!) originally known as New Sawley are now in Sawley parish.  But the area beyond the railway, sometimes called 'Far Sawley' and now marked as 'New Sawley' on the ordnance survey map, is in Long Eaton! 
This website deals with history, so by 'New Sawley' we mean the whole area from North East of Draycott Road to the Royal Oak.  Initially we'll concentrate on the area first developed in the late 19th century around Hey Street.  The  parts of New Sawley beyond the railway will be covered in more detail later, as this website develops.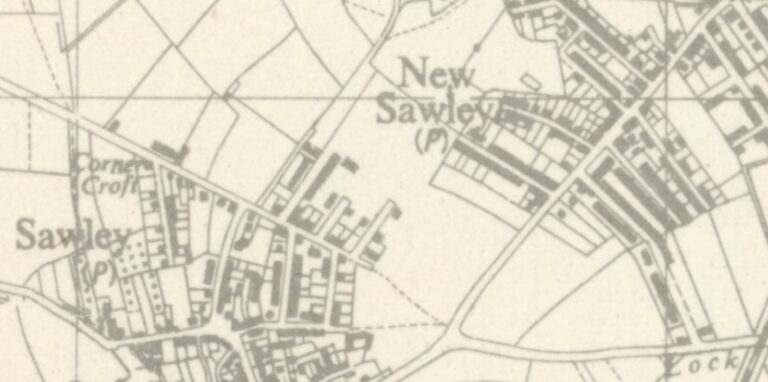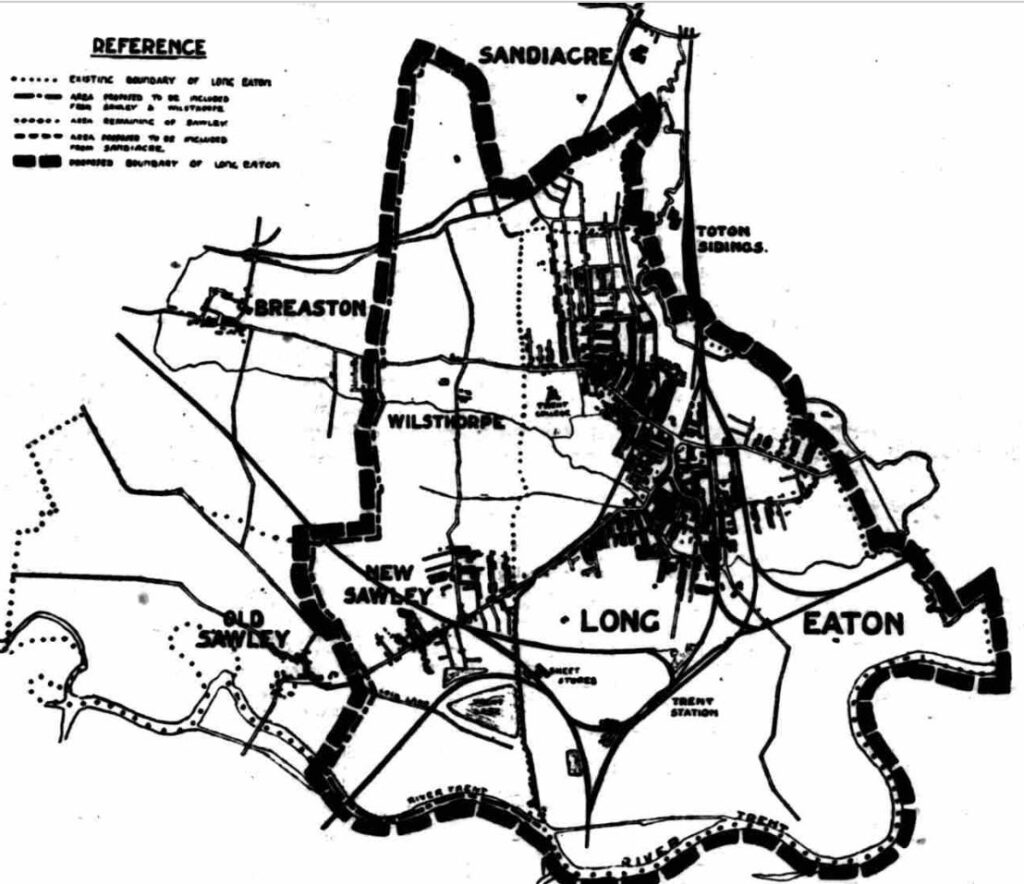 The first development beyond the old village was Hey Street, which was started in the 1870s.  Victoria and Harrington Streets were added in the 1890s and by 1910 Charnwood and Shaftesbury Avenues had been laid out, although many of the houses weren't built until the 1930s.
The main (Tamworth) road through New Sawley was known as Nottingham Road.  
Other New Sawley streets include: Shaftesbury Avenue, Charnwood Avenue, Mikado Road, Grosvenor Avenue, Northfield Avenue and Clarke Drive.