Apart from farming, basket making was probably the earliest industry in Sawley and many hands were employed in cultivating and harvesting the willows, or osiers, which grew by the river side.
With the coming of the canals some local men became 'watermen' or 'boatmen' on the barges or worked in the associated warehouses.
Weaving, stocking making, lace working, embroidery and sail making all became local industries, mostly carried on in people's homes.  The lace trade had its origin at Sawley, which later was taken to Long Eaton and Nottingham. The cotton mill at Wilne was a major employer by the end of the 18th century.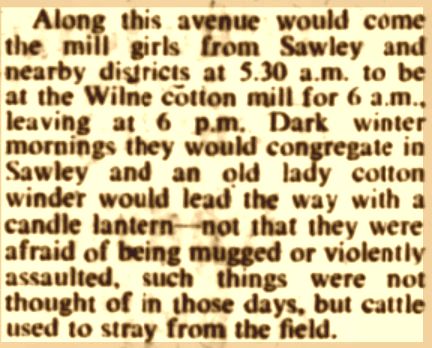 In 1846 there were 12 warp lace machines and 36 hosiery frames working in Sawley.  Some of them were in a  small factory in one of the twitchells.  In an old house on the main road opposite the "Big Lamp," was a hand-worked machine owned by Mr. Bosworth, commonly known as "Old Guelbo."
Embroidery known as 'Flossing' was carried on in homes.  It was worked in silk on the plain net made on hand-worked machines in the village factory.  The pattern was first sketched then securely fastened under the net and worked in a kind of darning stitch.  The wedding dress of King Edward VII's eldest daughter, Louise, Princess Royal was embroidered at Sawley.  In 1932 some women in the village were still working at the industry.
Sawley also used to be known for its cheese making, most probably Stilton.  Although originally marketed in the Huntingdonshire village of Stilton on the Great North Road, the cheese is only made in Nottinghamshire, Derbyshire and Leicestershire.  Sawley, of course, is where those 3 counties meet (between Trent Lock and Red Hill).