Hey Street was developed from the 1870s, mostly for employees at the Midland Railway's Sheet Stores.  It was named after the Reverend Samuel Hey, a popular rector of Sawley in the 19th century.
Initially the houses were nearly the only homes between the East End of Old Sawley and Barn Farm (the other side of the railway). 
On this 1884 map, Victoria St, Harrington St and the start of Wilmot St seem to have been marked out but not built.  'Woodbine Cottage' is on Bradshaw St.  
There was no running water in the village but Hey St seems to have been well provided with pumps ('P' on the map).
Originally the 'Bell Hotel' was at the far end of Hey St, on the left.  In the early 20th century it moved to its current position on Nottingham (Tamworth) Road.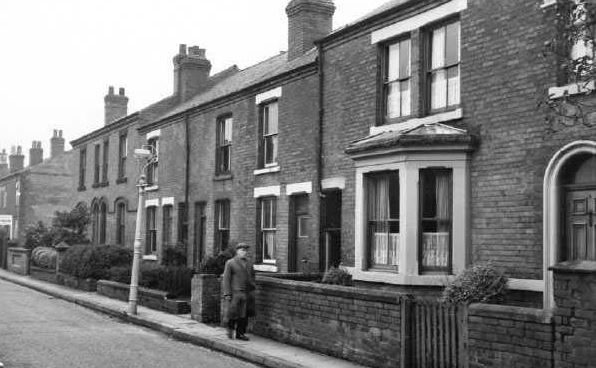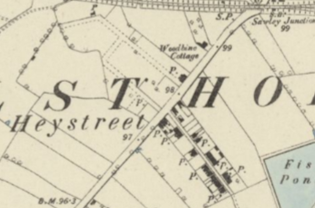 In 1901 the heads of household in Hey Street were:
William Allen (Charnwood Villa) – Storekeeper
James Morris – water keeper (bailiff)


Frank Clatworthy – sheet maker

Charles Shaw – rifle butt manufacturer

Ann Allen

Thomas Turner (Ellushi House) – boot maker

Sophia Allen – railway sheet maker

Amos Yardley – railway goods porter

John Evans – railway platelayer

Sarah Armison

Mary Burrows – greengrocer
Joseph Maddocks – bricklayer's labourer
Hannah Wilcox


Thomas Clarke – lace maker

John Burrows – gas stoker

Frank Schofield – railway porter

Richard Baxter – coal carter

Anne Swift

Arthur Kingscott – railway clerk

Maria Wilcox – hotel keeper

Thomas Thorpe – railway signal setter

William Harrison – police pensioner

Ernest Squires – bricklayer's labourer

Thomas Smith – painter

John Wall – lace maker

Edward Johnson – lace maker

William Flint – sheet repairer, Midland Railway

William Woodward – lace machinist

Henry Woodward – lace maker

Arthur Berrington – railway sheet painter

Fanny Turner – living on own means

James Meads – labourer, iron trade

Albert Clarke – lace maker

Thomas Wright – boot maker

Joseph Freeman – railway crane man

Frederick Chapman – railway sheet dresser

George Smith – lace maker

George Waldram – railway plate layer


George Hall – lace maker

Joseph Smith – railway clerk

Alfred Warren – engine fitter

Joseph Gundry – railway signalman

William Morley – bricklayer

Israel Smith – railway clerk

Richard Hickton – lace maker

Arthur Williamson – railway servant, general


Frederick Chambers – Midland Railway sheet maker

James Stevens – Railway signal fitter

Frederick Winfield (Park Villa) – lace maker