Wilsthorpe was a hamlet of about 600 acres within the parish of Sawley.  By 1900 it was just a collection of farms east of Wilsthorpe Road (since covered by the Parkside estate).  Wilsthorpe Road (the road from Sawley) includes:
Trent Mills (Derwent St) was built about 1912 for the lace makers, Sawley Textiles Limited.  By 1916 Concordia Electric Wire Company occupied the mill. 
Birchwood Mills is a single-storey brick lace factory started in 1904; the chimney (demolished about 1997) had a cast iron bulbous cap.  From the 1930s into the 1960s, lace makers shared the mill with the elastic web manufacturer Clutsom & Kemp.
Atlas Mills was built in 1910 behind St Marys Church.
Hill's Factory was opposite St Marys.  It was a lace factory built by Samuel Hill c1900.  It became part of the Concordia wire factory in the 1920s.
The farms included:
Wilsthorpe Grange Farm, which was southwest of the road junction (Wilsthorpe Island).  The site is now Ashview Close and Paddocks View, behind the Eaton Farm pub (completed in 1990).  In 1939 it was occupied by Edwin Pegge.  The 88-acre farm was sold off in 1970.  By 2000 the whole area of Wilsthorpe Grange and Wilsthorpe Farm up to the M1 had become housing.
Wilsthorpe Farm was north of Derby Road, roughly opposite to the new bus stop outside the Eaton Farm pub.  R Woodward left in 1936.  In 1939 Gilbert Illsely was the farmer.  The Wimpey estate was built on part of Wilsthorpe Farm in the late 1950s.  More land was being sold in 1984.
Wilsthorpe Lodge Farm is off Bostocks Lane. In 1855 the Georgian farmhouse was occupied by Thomas Smith.  In 1881 and 1891 by Reuben Berresford.  He was replaced by Frederick Shaw, who sold up in 1909.  By 1920 it was Mr B. Bates.  In 1939 Henry Adcock was here.  It is now in Breaston parish, used by a waste management company and accessed by a bridge over the M1 (opposite the entrance to the Novotel).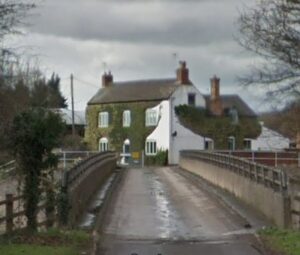 There was also Wilsthorpe Stud Farm.  Does anyone know where it was?