Although there were several industries within the village, and many villagers worked elsewhere – on the railways, canals and in Long Eaton – there were many small farms in and around Sawley.  Those in the village, many of them dairy farms, mostly disappeared in the mid-20th century.
See also (on the Wilsthorpe page):
Wilsthorpe Grange
Wilsthorpe Farm
Wilsthorpe Lodge
See also: Agriculture
The following farms are listed below:
Barn Farm
Bothe Hall (Bennet's) Farm
Church Farm
Cranfleet Farm
Firs Farm
Grounds Farm
Ivy House Farm
Ladylea Farm
Mytholme (Smith's) Farm
Netherfield (Bates') Farm
Sawley Grange Farm
Sawley Cliff Farm
Shirley Farm
Barn Farm, New Sawley
Barn Farm was on the southeast side of Tamworth Road in New Sawley (roughly opposite Birchwood Avenue).  From around 1890 the tenant was James Webb.   In the early 1900s some of the farmland south of the road (around Oakland Avenue) and north of the road (around Birchwood Avenue) was being sold for building.   And in 1902 the farm itself was for sale, with 30 acres, both sides of the railway.  By the 1920s the Barn Farm Land Society had developed houses around Mikado Road, Roosevelt Avenue and Lake Street.
Bothe Hall (Bennet's) Farm
This seems to have been between Bothe Hall and Top Twitchell and was presumably associated with Bothe Hall (occupied by the Bennet family in the 20th century).  It was still being referred to as Bothe Hall Farm in 1970.
The large farm on Bridge Street, next to the church, is said to have been the site of Sawley Hall and was originally called Hall Farm.
In 1841 John & Ann Smith was there.  By 1851 it was their son John (1818-59) and his wife Ruth (nee Stevens).  After John died his widow married John Bonsall Smith, whose parents ran Ivy House Farm.  After Ruth died, he stayed there a few years before retiring to South Cottage. 
In 1872 Joseph Grammer and his wife Mary (nee Stevenson) took over the farm and its 214 acres, having moved from Thulston.  After they died, Church Farm was let to the Stretton family.
When the Stretton brothers retired in 1940, they had 48 cows and 2 horses.  Joseph Grammer's grandson, (Joseph) Russell Grammar (1897-1974) then moved from Ivy House Farm to Church Farm, while his father, Joseph Stevenson Grammar, moved from Grounds Farm to Ivy House.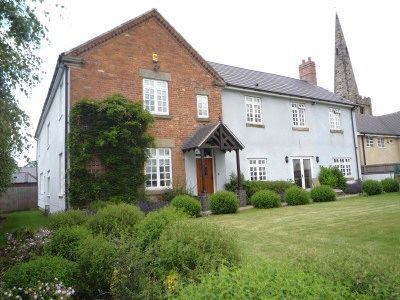 Cranfleet Farm
Cranfleet Farm (500 yards East of Trent Lock) predates the nearby Cranfleet Cut and the railway lines, leading to the Red Hill bridge and tunnel.   On the 1765 Parish Award it was called Cramfleet.  In 1939 it was occupied by John Woodward.
Firs Farm
Firs Farm was on East End (the house is still there at the entrance to Fairfield Crescent).  It once had two large fir trees by the front door.  In 1881 John Stevens Smith and his brother Robert Posnett Smith were farming here, with 50 acres.  From the 1890s it was owned by George Smith.  In 1901 he called himself a farmer but by 1911, although still at The Firs, he'd returned to his previous trade of lacemaking.  In 1900 he sold off 12 acres of building land between Old and New Sawley.  
After George Smith died in 1918 the Ironmonger family took it over.  In 1939 the farm was run by William Ironmonger, while his father, Tom, ran a butchers shop next to the Nags Head.  The family was still there in 1959, selling chickens, geese and turkeys.
The photos below are from when the farmhouse was sold in 1993.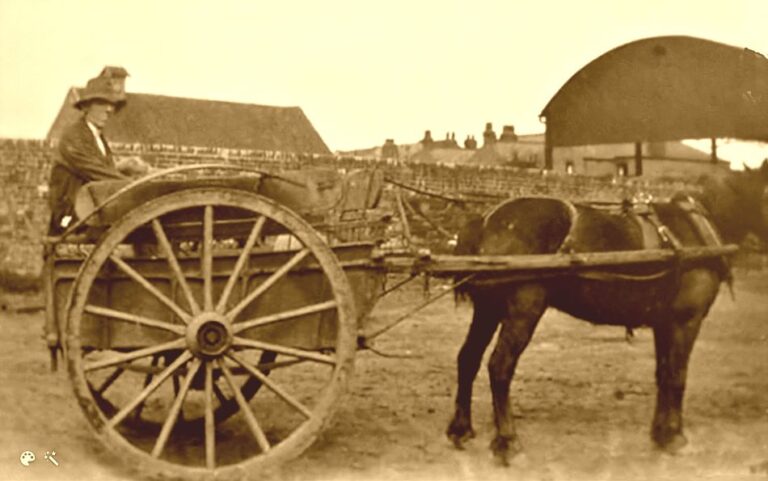 Grounds Farm
The fields between Lock Lane and the Trent, around/beyond the railway viaduct were known as 'Great Grounds' (see the map on the agriculture page).   In 1855 Grounds Farm was run by John Smith.  Charles Stevenson was there in 1891, followed by his nephew, Joseph Stevenson Grammar.  The latter was there for over 40 years, before he retired to Ivy House Farm. 
Ivy House Farm
Ivy House Farm was between East End (Fairfield Crescent) and Town Street (Tamworth Road).  From the 1830s it was occupied by John Smith and his wife Martha (nee Smedley) until John's death in 1867.  Prior to that the farmer was probably his father Edward Smith (1763-1832).  Their eldest son was John Bonsall Smith, who later lived at Hall (Church) Farm.
In the 1930s Ivy House was run by J. Russell Grammar (he may have moved there when he married in 1924).  Around 1940 he moved back to Home Farm and his father moved from Grounds Farm to live at Ivy House until his death in 1959. 
The farmhouse was presumably demolished in about 1966 when Fairfield Crescent was laid out (house building continued into the early 1970s) although Oakdene Cottage (originally 3 cottages) may have been part of the farm.  The modern Ivy House Farm is on Wilne Lane, just after the turn off to Church Wilne.
Ladylea Farm
Ladylea Farm was at the corner of Back St and Wilne Lane.  In 1900 it was occupied by J Downing.  By 1930 it was run by Solomon and Mary Ann Daft, but he died that year.  Ten years later, their daughter Doris and her husband Clement Gregory were the tenants.   In the early 1960s some of the land was being developed as the 'Ladylea Farm Estate'.   Doris died in 1958.  When Clem retired in 1968, he sold off 57 cattle.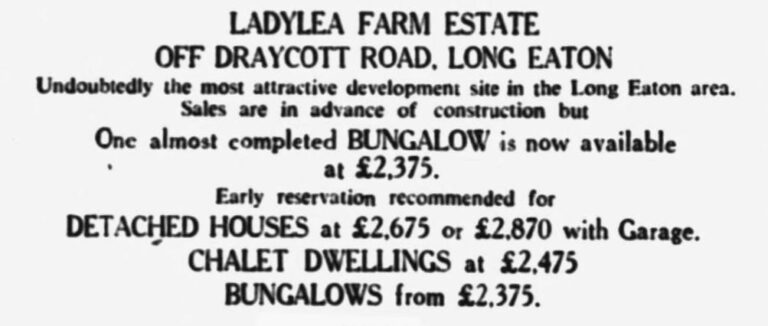 Mytholme Farm
Mytholme (Smiths') Farm was on Back Street, roughly opposite the Baptist schoolroom.
John Smith (1810-1861) and his wife Ann Oldershaw (nee Simpkin) were at the farm in the 1850s.  He was a grazier (probably of cows) with 50, later 65 acres.  Their eldest daughter married William Bates of Netherfield Farm.
The farm also owned land around Mytholme Lane, which runs from opposite the waterworks valve house on Wilne Road, towards the Trent.  The pipe to the aqueduct runs alongside it.  In the early 20th century Mr Smith had several wagons converted into hen houses in one of the adjacent fields and would visit them every morning in his pony and trap to bring food and collect eggs.
The 'Mytholme Farm Estate' (on Wilne Road, Elvaston Drive etc) was developed in the late 1960s, with the last house (a detached 4-bedroom house at the end of Shirley Street) was sold in 1970 for £5,750.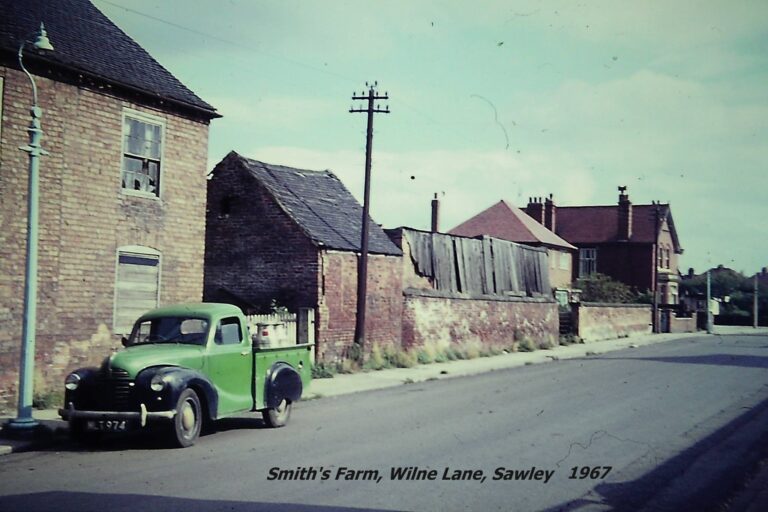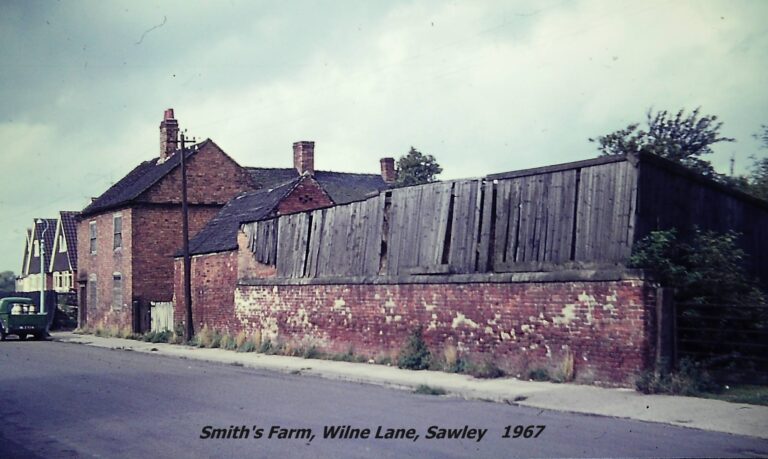 Netherfield Farm
Netherfield (Bates') Farm was at No26 Back Street, set back from the road between top and middle twitchells.  There was also a butcher's shop.
The first recorded tenants were William Bates (1811-98) and his wife Mary (nee Smith).  He was listed as a butcher until 1881 when he was described as a butcher and farmer of 38 acres.  He was succeeded by his oldest son, William (1865-1934) and his wife Florence (nee Milnes). 
They had 5 children, but the oldest (John William) was killed in the Great War.  And when William died the 3 younger daughters had married, the youngest to J. Russell Grammar of Ivy House Farm.  So, for the next 30 years, Florence and then her eldest daughter (also Florence) ran the farm with the other son (Tom), although he'd married and lived on Draycott Road.  The mixed farm sold eggs, potatoes, and milk.
After Florence (the daughter) died in 1974, the site was acquired by Carters.  Successive planning applications to turn the site into a lorry park were refused, although by 1977 the site had already been levelled.  Permission was finally granted two years later, which at least reduced the disruption caused by Carters' delivery lorries.
Sawley Grange Farm
Sawley Grange is on the road to Draycott, about ½ mile beyond the M1 bridge.  Until the reservoir was built, Draycott Road continued in a straight line from Sawley, before bending across to Sawley Grange, and then on to Draycott. 
The farmhouse was originally built around 1700.  In 1855 Thomas Harriman was there.  From the late 1800s it was occupied by Thomas Bowmer (he retired to 'Corner Croft' on Draycott Road).
Sawley Cliff Farm
Cliff Farm was South of the Trent, across from Trent Lock.  The course of the Trent had changed c1200 but the parish boundary continued to follow the old course for centuries afterwards (its now in Lockington parish).
In 1846 the farm had 106 acres and belonged to Rev Stephen Madan of Sawley.  In 1855 Joseph Lancashire was there, probably as his tenant.
Shirley Farm
Shirley Farm seems to have been a small establishment on Shirley Street, near to Shirley Cottages (which were built in 1914).  In 1939 it was run by George Camp and his wife Jennie.  George (possibly a distant relation of Mary Grammar (nee Stevenson) of Church Farm) was born in Cross St and later lived in the Nags Head, when his widowed mother was running it.  During the Great War he served in the West Riding Regiment.  After George died in 1941 and Jennie died the next year, the farm was sold off.