Baptist Chapel
The Sawley Baptists are one of the oldest-established Nonconformist organisations in the East Midlands.  It is thought they were first formed in 1766, meeting initially in a private house[1].  Their first meetinghouse in Sawley, opened in 1783, was an existing building, given by Joseph Parkinson, and fitted out by John Stenson.  Members came as far as twenty miles distant to worship on Sundays.
Initially it was attached to the Kegworth chapel, but from 1785 it became part of the Castle Donington circuit.
Mr. T. Pickering seems to have been in charge, his ministry being so successful that in 1800 a new Meeting House was built on Back Street.  Mr. Pickering preached to ever-increasing congregations until he died in 1807. 
It is recorded that no fewer than eighty persons were baptized in the River Trent in three years.
This church, which has its own burial ground, was extended in 1843.  A school (pictured right) and schoolmaster's house were added at the same time.
The great Baptist Divine, Dr. John Clifford, was born at Sawley, and the house remains on Back Lane (Wilne Road), to which a small tablet has been attached.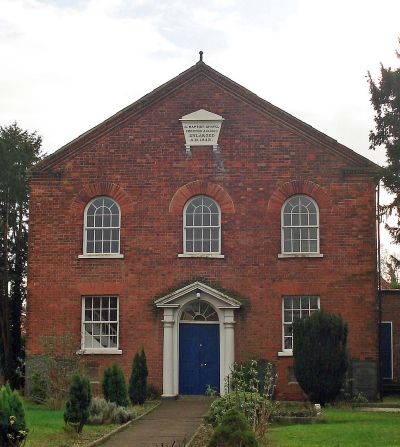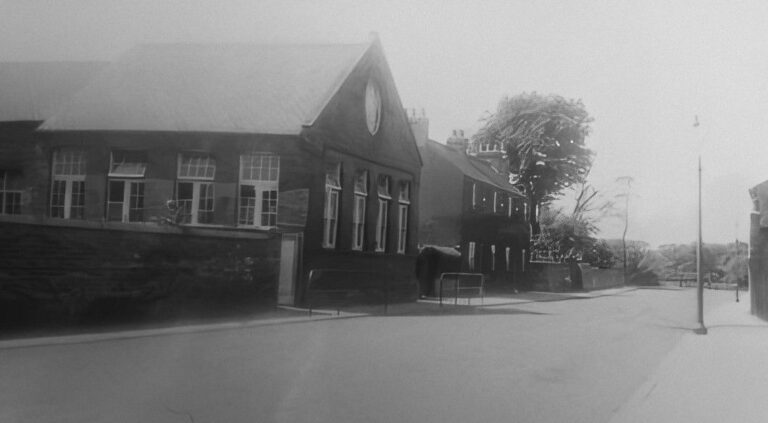 Wesleyan Chapel
A Wesleyan Chapel was founded in 1822 on Cross Street.  It seems to have been demolished in the early 20th century and the site is now the garden in front of the WI.
In 1884 the current Wesleyan Chapel was opened on the corner of Nottingham (Tamworth) Road and Victoria Avenue.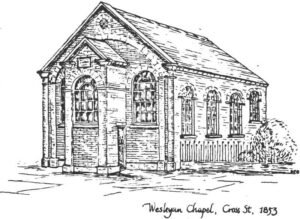 Primitive Methodist Chapel
The 1880 map shows another chapel on Chantry Close (behind the Nags Head).  It is possible this was the belonged to the Sawley Primitive Methodists, founded in 1819.  The 1851 Religious Census Return listed a chapel in Sawley, recently purchased from the New Connexion Methodists.  It seems to have closed in the early 1900s; perhaps 1904 when a new Primitive Methodist church opened on Derby Road, Long Eaton.