Arthur Kingscott
Arthur Kingscott was born in Cross St in 1864.  His father was a sailmaker who moved from Gloucester to work in the Sheet Stores.   By 1881 the family had moved to Hey St and Arthur was an accounts clerk with the Midland Railway. 
He married Mary Meads.  By the early 1900s he'd been promoted to audit inspector and moved to 'Netherfield' – 193 Nottingham Road (now Nightingale Nursery).  Their surviving children were Clarice, Arthur Henry and Cecil.
As a young man he played football for Sawley Rangers, but then took up refereeing.  He was appointed to the Football Association (FA) Council and in 1918 he became its treasurer.  He refereed the FA Cup Final in 1900 and again in 1901.   In 1933 he resigned after a dispute which blew up into a major controversy.  After his death in 1937 a memorial tablet was erected in Sawley Church by the Midland Counties Football League.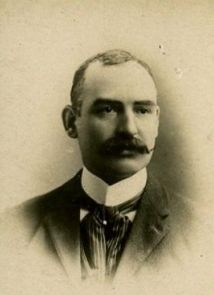 Clarice Kingscott
Clarice Ada was born in Hey St in 1885.  By the age of 15 she was working as a schoolteacher.  In 1909 she married John Button, whose family ran an ironmongery business in Long Eaton.   After she died aged only 29, her parents paid for new gates on the south side of the church in her memory.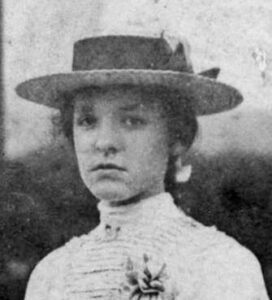 Arthur Henry (Harry) Kingscott
Harry was born in Hey St in 1890.   He started work in a lace factory warehouse before serving with the Derbyshire Yeomanry and 17th Hussars in India during the Great War.  He later became a commercial traveller and lived in the bungalow at 195 Nottingham Rd.  He also became a referee and refereed the 1931 FA Cup Final. 
Harry married Annie Briggs from Long Eaton.  Their daughter Doreen married Peter Bower, a soldier she'd met in Sawley.  He later became a brigadier and commanded Chilwell Depot.
Cecil Kingscott
Arthur Kingscott's younger son Cecil was born in Hey St in 1901.   He became a clerk with the Midland Railway and served as a sergeant with the home guard during WW2.
He ran the Toc H Boys Club and took a leading part in the Sawley Memorial Hall committee.   He married Grace Smith at Wilne in 1931 and moved to Shaftesbury Avenue.  Their only son was (Arthur) Geoffrey.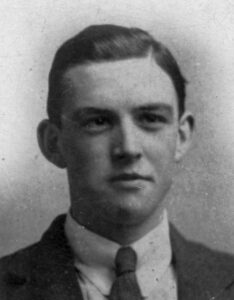 Geoffrey Kingscott
Geoff was a reporter in Wales when his father's death brought him back to Sawley, where he started working for the Long Eaton Advertiser in 1959.  He then started his own news agency, which he later operated at the same time as running a music shop on the Derby Road canal bridge.
In the 1964 General Election he was Labour's second-youngest candidate standing (without success) in Sheffield Hallam.  By the late 1960s he was also editor of Stock Car magazine and had become a freelance translator.  
In the 1980s he started a translations company, with offices in Nottingham, Leeds, Manchester, Newcastle, Mulhouse and Chicago.  He also founded 'Language Monthly'.  Exposure to the European Commission persuaded him to join UKIP, becoming its first General Secretary and standing in the 2005 General Election.
After retirement he continued freelance work and wrote books on railway history including 'Last Train from Trent Station'.   He was a founder member of the Sawley and District Historical Society.