Thomas Daniel Evans 1842-1908
Thomas Evans was born near Stroud, but the family then moved to Gloucester.  His father was a sailmaker and Thomas took up the same trade, probably working on canvas covers at the Midland Railway's Gloucester depot.  By 1860 he'd moved to Sawley to work in the sheet stores and was lodging in Cross Street with another Gloucester sailmaker.  He joined the Sawley Temperance Society and in 1860 he sent a petition to parliament to ban the licensing of eating houses to sell beer and wine.  In 1861 he petitioned again, to prohibit the sale of alcohol on Sundays.  In the same year he married Emma Allen.
At first, they lived in Church St, but then moved to Cross St, next to the Nags Head (possibly in the Old Manor House).   By 1908 they'd moved to Charnwood Avenue and Emma later lived at 22 Victoria St.  Their children were:
Martha Ann (1861-1889) married William Clifford in 1885, but died 4 years later
John Lllewellyn (1864-1882) died aged 16
Ellen Mary (1867-1953) married George Lakin, a lacemaker from Long Eaton
Clara (1870-1956) married Earnest William Taylor, a joiner from Matlock
Roger Thomas (1873-1874)
Walter Thomas (1876-1949) – see below
Thomas Henry (1883-) – see below
Walter Thomas Evans 1876-1949
in 1901 Walter was a railway clerk, but by 1906 when he married Mary Elizabeth Rice, he had a newsagent's shop on the corner of Mikado Road.  They had 2 children:
Thomas William (1906-1974) took over the newsagents from his father in the 1930s.
Margaret Mary (1913-2002) married Ernest Tipping in 1934. Ernest ran a general store and newsagent on Wilsthorpe Road.
Walter's wife Mary died in hospital in 1929, a day after a car crash.  At dusk on Sunday 22 Sep (Thomas) William was driving an open-top touring car towards Mansfield when it was hit by a passenger-carrying lorry on the bridge at Carburton near Worksop.  John Thomas Brooks of Ivy Cottage, Cross St was in the car passenger seat. In the back were Mary (William's mother), Williams's sister Margaret, Miss K Brooks (John's sister?) and Ivy Brooks of Arnold Avenue.  Margaret and Ivy were thrown onto the road, the others ended up in the river, with the badly damaged car hanging over the bridge parapet.
After recovering from the accident Walter and William stayed at the shop.  Walter retired to Breaston.  The  son, William Evans, ran the shop until it was taken over by Dennis Woolley.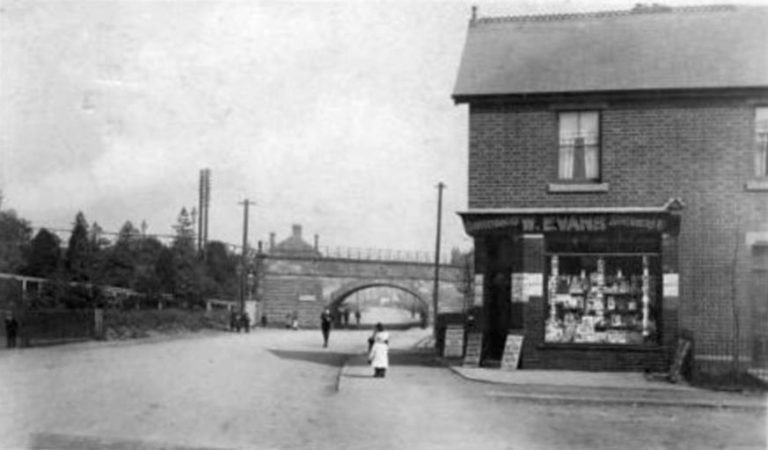 Thomas Henry Evans (1882-1956)
In 1901 Thomas was a railway clerk, but by 1909, when he married Frances Mary Thompson, he was a postmaster.   Sawley post office was at 40 Town Street (opposite the White Lion) and Mary became his assistant.   At the time, William Turner was running New Sawley Post Office (next to the Methodist Church) and the local telegraph office was at Sawley Junction station.
In Nov 1916 Thomas joined up and was initially sent to the Army Service Corps Motor Transport Depot.  But 4 months later he was transferred to the Machine Gun Corps and was sent to France in May 1917.  He was wounded in action in Aug 1918, and, because of his profession, he was released early from the Army in Jan 1919 and returned to Sawley.
He seems to have retired in about 1939. Initially he stayed with his sister Ellen Lakin in Long Eaton, before moving to Wyaston, near Ashbourne.  He was buried in Sawley.
In the 1940/50s(?) Old Sawley Post Office moved to Draycott Road (corner of Grosvenor Avenue).  It closed in 1914 and is now a house.