In 1911 George Harvey was the station master at (Old) Sawley Station.   By 1911, George and his wife Mary had 10 surviving children:
Charles Reginald 1893
George Vincent 1895
Norman Victor 1896
Wilfred Ellis 1898
Elizabeth Adeline 1900
Arthur St Clair 1901
Alexis Llewellyn 1903
Catherine Sylvia 1905
Raymond Roderick Roy 1908
Ernest Ivor 1909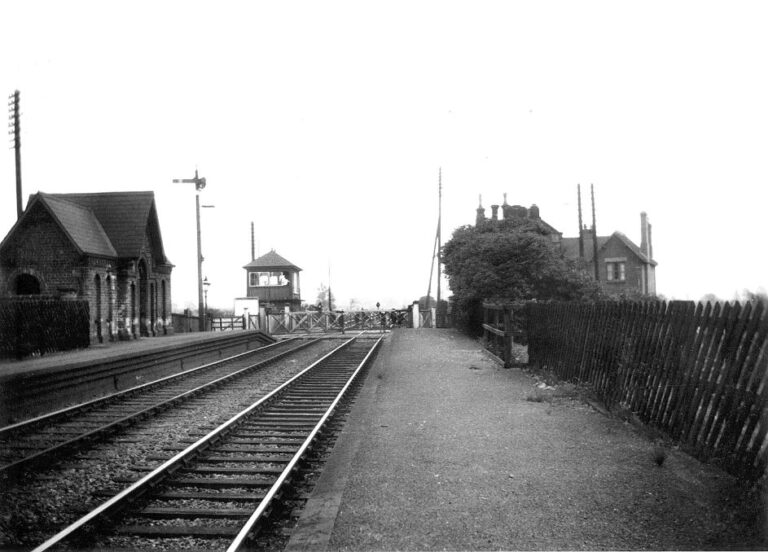 The family had moved around with the railway work. The two eldest were born in Bulwell, the next 4 in Old Normanton, Derby.  Alexis was born in Desford, Leicesteshire.  They moved to Sawley in about 1904.
In 1911 Charles was working as a painter's assistant for the railway.  George (age 16) was a porter and Norman (15) was a lace worker in Victoria Mills, Draycott.  On leaving school Wilfred became a number taker for the Midland Railway.
During the Great War, Charles became a sergeant in the Royal Engineers and was awarded the meritorious service medal.  The station master's sister, Acting Matron Margaret Harvey served in France and Belgium and then with the First Serbian Hospital Corps.
Norman became a sergeant major in 16th Battalion, the Rifle Brigade.  He was killed in action in Belgium between 31 Jul and 3 Aug 1917 during the Battle of Pilckem Ridge, the start of the Third Battle of Ypres (Passchendaele).
George Vincent and Wilfred also served on the front line during the Great War, the latter with the Manchester Regiment.
George (senior) retired to a house on Tamworth Road in Old Sawley.