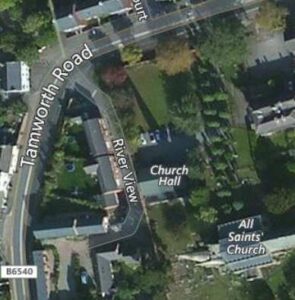 Most History Society events are held in Sawley Church Hall, Tamworth Rd, Old Sawley (see map) and usually start at 8pm. Events are usually free to members; non-members are welcome to attend (+ £2.50).
2018
2017
| | |
| --- | --- |
| 30th January 2017 | Annual General Meeting: Followed by Dr. Ann Featherstone joining us again, this time with "Fools and Horses" looking at the Victorian Circus and its performers |
| 27th February 2017 | Arming a Knight: A welcome return for Jed Jeggard from "UP AN' AT 'EM!" History, who demonstrates the types of armour a knight would wear and the weapons he would carry. |
| 11th March 2017 | "Quilter and the Ghost" We welcome the Arletty Theatre Group back again.  Quilter and the Ghost is a musical play woven from over a hundred inspirational stories collected from the people of Nottingham. Featuring an army of grandmothers, pirates, educators, writers and a female highwayman, this play brings to life some remarkable characters that otherwise might have faded into obscurity.  |
| 27th March 2017         | The Biggest Worsted Mill:  Bob Massey returns to give us the story of Hawksley and Davison and the start of the Industrial Revolution. |
| 24th April 2017            | Origins of Sayings.  Part 1:  Looking at the sometimes unexpected beginnings of common sayings with Ian Hingley. |
| 29th May 2017     | Through the Carriage Window: Trevor Griffin talks of the History of the Derwent Valley Railway Line from Derby to Matlock. |
| 26th –  29th August 2017 | Society's Exhibition: to be displayed in the Church Hall over the August Bank Holiday, in conjunction with All Saints Flower Festival.  |
| 25th September 2017            | The History of Horology:  Ross Alcock looks at the history of 6000 years of time-keeping with particular reference to English innovations. |
| 30th October 2017              | A Happy Russian Christmas:  Postponed from Nov. 2016 because of illness, Cathy McAteer delves into Russian History before the revolution and after to describe the festive season.    |
| 27th November 2017           | Redcoats of Nottinghamshire: Michael P. Kirkby talks about some of the notable local characters that enlisted into the army and wore one of the famous "redcoats". |
2015
| | |
| --- | --- |
| Sat 10th Jan | "Swan Canaries" – Arletty Theatre GroupLively interpretation, including songs from the time, of the story of some of the  women workers in the Chilwell shell-filling factory up to the explosion of 1918.. |
| Mon 26th Jan | Annual General Meeting Followed by our treasurer Rod Young who will give an illustrated talk about The History of Bonsai from China in 206 BC to present day New Sawley. |
| Mon 23rd Feb | The Life and Expeditions of Sir Ernest Shackleton – Hugh Sharp An illustrated talk about the life of explorer Ernest Shackleton, his expeditions and some of the people in his life including his relationship with Captain Scott. |
| Mon 30th Mar | Victorian fairs: freaks and fisticuffs – Dr. Ann Featherstone Recently seen on BBC's "Who do you think you are?" Dr Ann Featherstone gives us the benefit of her extensive knowledge of Victorian entertainment. |
| Mon 27th April | Smashing the Frames – Bob Massey The story of the Luddites who began their campaign in Nottinghamshire to try and stop mechanisation of the textile industry. |
| Mon 25th May (Bank Holiday) | John and John Tradescant – Patsie Jarman England's seventeenth century master gardeners who travelled the world collecting plants for the country's most important people including Charles 1st. |
| Mon 29th June | Dale Abbey An early evening talk and guided walk around the Abbey and Church. |
| Sat 25th July | Cromford Visit to Cromford Mill.  Guided walks around the mill in the morning and the village of Cromford in the afternoon. Own transport. |
| Sat 29th Aug – Tue 1st Sept        | Society's Exhibition To be displayed in the Church Hall over the August Bank Holiday, in conjunction with All Saints Flower Festival. |
| Mon 28th Sep | National Service at Home and Abroad 1948-1962 – Jed Jaggard    Lively personality Jed Jaggard from "Up an'Attem" talks of the trials and tribulations of National Service well remembered by some of our members.   |
| Mon 26th Oct | Footpads, Kings and Highwaymen – Ian Morgan A journey of just over 34 miles as the A1 passes through Nottinghamshire reveals a history of battles, murders, highwaymen and much more. |
| Mon 30th Nov |  The Last of the Shell Workers – George Hook An interesting look at a dying craft and hear its history as we see a sea shell turned into beautiful objects. There will be the chance to buy your Christmas presents! |
2014
| | |
| --- | --- |
| Sat 4th January | Annual Supper and Social Evening: Church Hall 7pm Punch, pie and homemade puddings, quizzes and a beetle drive. |
| Mon 27th January | Annual General Meeting: Followed by our treasurer Rod Young who will give an illustrated talk about the history of  Darley Abbey. A sequel to his interesting walk last summer. |
| Mon 24th February | The Great War, shattered illusions:  Danny Wells gives us the romanticised image of war on the run up to 1914 and the shattered illusions thereafter. |
| Mon 31st March | St. Pancras: The fascinating story of how an elegant, mid-Victorian, gothic, cathedral type building came to be built. Told by Nigel Lowey who spent ten years researching its history. |
| Mon 28th April | The Parish Constable:  Dudley Fowkes visits to deliver the talk he was unable to give last year about the stories he uncovered when researching the county archives. |
| Mon 19th May | The Wise Men of Gotham: Nottinghamshire historian and folklorist Frank Earp recounts the tales of the men of Gotham and although they appeared foolish, had an ulterior motive. |
| Mon 30th June | Walk around Castle Donington:  finishing at the museum.  Details of time and meeting place to follow later in the summer sheet. |
| Aug     | Melbourne Hall: Proposed group visit. More details to be given in the summer sheet. |
| Sat 23rd to Tues 26th August | Society's Exhibition: to be displayed in the Church Hall over the August Bank Holiday, in conjunction with All Saints Flower Festival. |
| Mon 29th September | Bass Railway Trips:  Rod Pearson returns to tell us the entertaining story of the Bass Company's popular seaside excursions which lasted from 1865 to 1914. |
| Mon 27th October | The King under the car park, the search for King Richard lll Mathew Morris from the University of Leicester describes how the remains of Richard lll were found and identified. |
| Mon 24th November | Life in the Workhouse: We welcome the return of Dr. Wendy Freer who speaks about what life was like for so many of the poor in the past. She includes sound and video clips and some documentary evidence from the East Midlands. |
2013
| | |
| --- | --- |
| Sat 5th January | Annual Supper & Social Evening.  Punch, pie and homemade puddings,quizzes and a beetle drive. |
| Mon 28th January | Annual General Meeting. Followed by local historian Sandra Stock who will give an illustrated talk about the Fire at the Church of St Chad at Wilne in 1917. |
| Mon 25th February | The Drummond Murders. Member Tony Horton talks about the murder of Sir Jack Drummond  and his family whilst on a camping holiday in France. A real "Who dunnit?". |
| Mon 25th March | The History of British Prisons. Ex- prison officer Richard Papworth gives an insight into the development  of the prison system. From the hulks to the Mountbatten report. |
| Mon 29th April | Farmhouses through time: W. Keith Blood gives an illustrated talk looking at the diversity of architecture, materials and aspects of farms and farming through the ages. |
| Sat 11th May | Local History Day.  A day celebrating our 30th anniversary. Other local history groups  will be joining us with exhibitions and artefacts of interest. More information nearer the date. |
| Mon 27th May | First of our outside meetings. Sandra Newton guides an evening walk  to Shardlow crossing the new Horse Bridge. |
| Mon 24th July | Heritage Walk around Darley Abbey: Evening walk led by Lin and Rod Young.  |
| Sat 27th July | Avoncroft:   All day visit to this 15 acre site near Bromsgrove. Rescued historic buildings spanning 700 years range from a 1940's prefab to a medieval house and windmill. |
| Sat 24th – Tues 27th Aug | Society's Exhibition: to be displayed in the Church Hall over the August Bank Holiday, in conjunction with All Saints Flower Festival. |
| Mon 30th September | Life and Times of a Farrier: Retired farrier Doug Bradbury gives an account of his working life in this ancient trade. |
| Mon 28th October | Tudor and Stuart Food: Mark Dawson presents his findings into research into food eaten in Derbyshire during the Tudor and Stuart period. May be biscuits! |
| Mon 25th November | Christmas, True Victorian Style: A welcome return to Jo Carter, who tells what Christmas was really like before Singing Santas and Fairy lights. |
2012
| | |
| --- | --- |
| Saturday 7th Jan | Annual Supper and Social Evening.  Punch, pie and homemade puddings, quizzes and a beetle drive. |
|   |   |
|   |   |
|   |   |
|   |   |
|   |   |
|   |   |
|   |   |
|   |   |
|   |   |
|   |   |
|   |   |
|   |   |
Monday 30th Jan

Monday
27th Feb


Monday
26th March

Monday
30th April

Monday
28th May

Monday 25th June

Monday
30th July


Saturday 18th Aug


25th to 28th Aug

Monday
24th Sept

Monday
29th Oct

Monday
26th Nov
                                          



Annual General Meeting: followed by Shardlow historian Jeff Clifton who will give an         illustrated  talk about The  Heritage of Shardlow, our neighbour across the river.

Lace Factories in Long Eaton: Member Keith Reedman will talk about the conservation  of lace factories alongside the Erewash Canal, outlining the development of the industry in  the town and looking at the decline of the Leavers lace machine.

The Fitzherberts of Tissington Hall: a return visit by Ruth Jordan to talk about another prominent Derbyshire family, the Fitzherberts.

The Framework Knitters of the East Midlands: popular speaker Dr Wendy Freer tells the history of another local industry of our past.

Ruddington Framework Knitters Museum: First of our outside venues. An evening visit to this interesting museum linking with Dr. Wendy Freer's talk.

Tissington Hall:  Ruth Jordan will escort us round this ancient Derbyshire house, the
home of the Fitzherberts. An evening visit.

Harborough Museum: Following up last year's talk on the Hallaton Hoard, we take an  evening trip to the museum where some of the treasure and other artefacts found in the  local area are displayed.

The British Horological Institute: A morning visit to Upton Hallfor a talk and tour of this fascinating collection of timepieces. Afternoon free to visit either Southwell Minster or the Workhouse, or both if you have the energy!

Society's Exhibition to be displayed in the Church Hall over the August Bank Holiday, in conjunction with Sawley All Saints Church Annual Flower Festival.  Open 10 am to 6 pm.

'Time Gentlemen Please':  Start of evening meetings again. Rod Pearson takes a  
humorous look at the ways we have recorded the time in the past.

The Work of the Parish Constable:  Dudley Fowkes visits us to relate some of the tales of the Parish Constable he uncovered during his work with local records.

'Owd Ilson' Part 2: Stephen Flinders continues his history of the neighbouring town of Ilkeston.
2010
29th November 2010 – Goings on below stairs
Dr Wendy Freer returned to give us another of her popular tales of how people used to live and work in "the good old days".
25th October 2010 – Byron and Newstead Abbey by Professor John Beckett
John Beckett gave an informative and entertaining presentation that challenged and illuminated many of the groups' preconceptions about the life and times, and also the loves and death, of George Gordon, the poet Lord Byron. Particular mention was made of the lasting reputation and influence of Byron on the political life of Greece. The peculiarities of Byron's forerunners at Newstead and the interesting lives of his mother and uncles were also featured.
The evening ended with Professor Beckett giving informed answers to a wide range of questions from the audience.
27th September 2010 – History of Sawley, part 3
Geoffrey Kingscott continued his story on the specific topic of "Rivers, Cuts and Canals: Sawley as a centre for waterways navigation".
Saturday 28th to Tuesday 31st August 2010 – Society's Exhibition
Society's Exhibition was held in the Parish Hall over the August Bank Holiday, in conjunction with Sawley All Saints Church Annual Flower Festival.
23rd August 2010 – Hemington/Lockington Walk
Graham Grammer lead a walk along footpaths and lanes in this quiet corner of Leicestershire.
26th July 2010 – Breedon and its Church
Mrs Ida Wright gave an evening tour of the Church and a brief history of the village.
28th June 2010 – Newstead Abbey
An afternoon trip for an introduction and tour of Lord Byron's home. Taking in the rooms Byron used, remains of the 12th century Abbey and the gardens.
31st May 2010 – Lichfield
Bank Holiday coach outing to this historical town for the Cathedral; crowning of the Bough Queen; birthplace of Samuel Johnson; and the National Arboretum.
26th April 2010 – Old maps of Derbyshire
Dr Robin Trotter, a local GP with a fascination for old maps of the county, used maps to show the history and development of our area.
29th March 2010 – Working life of Medieval man and woman
John Hughes recounted how ordinary people lived and worked in England before the Industrial Revolution changed their lifestyles forever.
22nd February 2010 – An alignment across Sawley
Eric Sargeant, member of the Society and an Associate Lecturer with the Open University, speculated about the significance or otherwise of Ley Lines and considered the possibility that the orientation of churches and castles in the area around the Trent, Derwent and Soar junctions might indicate deliberate planning.
25th January 2010 – Annual General Meeting followed by "Scotch on the Rock"
The Society's Annual General Meeting on Monday 25th January showed it to be in good health with a membership of about seventy. The accounts and officers' reports were accepted and an election slightly enlarged the committee.
As is customary at the AGM the evening's talk was given by one of our own members. This year Barry Cope gave an illustrated presentation entitled "Scotch on a Rock". This covered the wreck early in the Second World War of the SS Politician, which was carrying a quarter of a million bottles of untaxed whisky, in the Sound of Eriskay in the Outer Hebrides. The true story, involving the imprisonment of a number of islanders from Barra, South Uist and Eriskay for "liberating" the cargo was contrasted with the light romantic novel "Whisky Galore" and the film adapted from it. Barry ended the talk by showing a bottle from the wreck that he uncovered on a beach in Barra last year.
9th January 2010 – Annual Supper and Social Evening
Around forty members attended the Annual Supper and Social Evening on Saturday 9th January, enjoying a pie and peas supper followed by quizzes and games.
  2009
30th November 2009 – "Two Queens and a Countess."
The last talk of 2009 was given by David Templeman and was a fascinating tale of loyalty, policy, treachery and intrigue in sixteenth century England. Henry VIII and his wives, son Edward VI and daughter Mary were given due consideration, but most of David's time was taken up with with an examination of the relationship between Elizabeth I of England and Mary Queen of Scots. The alliances of the two women and the pressures applied by the churches, the women's suitors, and in Mary's case husbands,and the various court factions and parties was considered. Special attention was given to the rise, marriages intrigues, power, and ultimate failures of Elizabeth, Countess of Shrewsbury (Bess of Hardwick). These were indeed "interesting times".
26th October 2009 – "Have you got a slate loose?"
The Society's winter programme of talks continued on Monday 26th October when Malcolm Burrows asked members and visitors "Have you got a slate loose?" Malcolm's talk was a history of roofing materials in English vernacular architecture (see box below).
26th September 2009 – Sawley Township Charter Day
The celebrations, on Saturday, September 26 2009, of the 750th anniversary of the Sawley Charter provided Sawley with a day to remember.
The Charter, granted by King Henry III in 1259, gave the Bishop of Coventry and Lichfield, who then held the manor of Sawley, the right to hold a market once a week and a fair once a year. This effectively turned Sawley, at that time the largest village into the area, into a township.