For Charles Isaac Isaiah Crisp – see box below
Henry Thomas Dooley Crisp (1847-1924) was born in Birmingham.  In 1867 he married Annie Elizabeth Shardlow in Manchester.  She was originally from Hemington and after the marriage they moved to Gaol Yard, Sawley.  Henry was a waterproof sheet maker, almost certainly working at the Midland Railway Sheet Stores.  In 1881 they were living on Hey Street, but by 1891 they were in Cross Street.  In 1911 they were at 8 Arnold Avenue.   Their children were:
Mary Elizabeth (1869-)
Walter Edmund (1870-1952) – see below.
Annie (1873-)
Joseph (1876-)
Emma (1877-)
Harry (1879-)
Walter Edmund Crisp (1870-1952) had a paralysed foot and leg from birth. He started work as a shoemaker's apprentice – perhaps to Wrights on Plant Lane.  But by 1897, when he married Annie Maria Hardy, he'd become a clerk at the gas works.  He'd already been appointed to the Shardlow Board of Guardians (who administered the workhouse) and was the Sawley delegate to a meeting of Liberal Unionists.  In 1909 he was appointed treasurer of the Long Eaton Football League and secretary of the Derbyshire Football Association.  In 1911 he became secretary of the Sawley Ratepayers Association.  Walter and Annie lived on Nottingham Road, before retiring to 26 Charnwood Avenue.  After WW2 he was a local councillor and chairman of the Shardlow Institution.  Their children were:
Hilda May Blanche 1899-)
Walter Henry Hardy (1901-)
Their only son Walter Henry Hardy Crisp (1901-1932) attended the National School on Cross Street.  In 1915 (when he'd just turned 16) he tried to enlist in the Army but was refused.  Instead, he joined F Perks and Son.  Five years later the first contract he supervised himself was the houses on Longmoor Lane.   He then spent 7 years supervising the reconstruction of Whittington Barracks at Lichfield.
He played for Sawley United Football Club.  He also became its secretary.  Committee meetings were open to the public and most of the men of Sawley attended the games. 
He married May, the daughter of Alfred Salt (farmer) of Castle Donington.
In late 1931 he was put in charge of a large contract at Catterick Barracks.  For 10 months he travelled back to their home in Shaftesbury Avenue at weekends, but in Sep 1932 the family moved to Tunstall, North Yorkshire.  About a week later he was killed when his motorbike collided with lorry near Tunstall.  His funeral was held at the Wesleyan Church in Castle Donington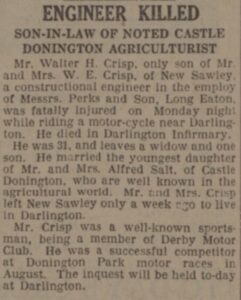 Charles Isaac Isaiah Crisp (no relation of Walter Crisp, as far as we know) was born in Nottingham in 1887.  In 1902 (aged 15) he started working for the Midland Railway as an assistant porter at Chellaston station.  By 1913 he was living in Sawley, when he married Sarah Ann Beardmore.  The marriage was at her family's local church in Horsley, but she'd been living in Chellaston when they met. They moved to 53 Hey Street and had 2 daughters:
Annie May (1914-1976) married Charles Smedley and moved to Nottingham.
Irene (1916-) married Frederick Shaw
When he was called up in May 1917, he asked to join the Royal Engineers but was sent to the Sherwood Foresters and then transferred to 9th battalion, Leicestershire Regiment.  Five months later he was sent to France.  When the battalion was disbanded in February 1918, he joined 11th battalion (Midland Pioneers) Leicestershire Regiment. 
A few weeks later the battalion were in the front line opposite the villages of Quéant and Pronville, between Arras and Cambrai when the Germans launched their spring offensive on 21st March 1918.  This was a massive attack to regain the initiative before the American Army could fully deploy.  The offensive started with the largest artillery bombardment of the war and many of the British forward units were destroyed with few survivors.  This was followed by German shock troops, who forced the British to retreat after fierce resistance.   Charles was one of those who disappeared in the attack and was reported as missing.
Nine months later the Army were notified by the Germans about where he had been buried.  Only then, just days after the Armistice, would it have been officially confirmed that he'd died on (it was assumed) 22nd March. The grave was obviously lost during later fighting as he has no known grave and is listed on the Arras memorial.
Sarah Anne did not re-marry.  In 1939 she was still living at 53 Hey Street.  She died in 1968, 50 years after Charles.