Albert Edwin Smith was born in Castle Donington, where his mother, Eliza's (Hickinbottom) family lived.  Albert's father was Edwin Smith, a lacemaker from a long-established Sawley family.  Albert and Eliza set up home at 141 Sawley Road, Long Eaton.  
In 1914 he joined the Army, serving with the South Nottinghamshire Hussars; though he may already have been a volunteer trooper before the war.  After mobilization, the South Notts Hussars served in the Gallipoli campaign in 1915 and then at Salonika before deploying to Egypt as part of the Desert Mounted Corps. Albert was promoted Lance Corporal.  
(* Ed.  When I was very young I heard that Albert (a neighbour) had been in the cavalry at Omdurman. I assumed he'd been at the famous 1898 battle in which a young Winston Churchill took part in the last full-scale British cavalry charge.  But Albert wasn't that old, so he must have visited Omdurman (in Sudan) during his time with the Desert Mounted Corps around 1917.) 
In early 1918 the South Notts Hussars gave up their horses and were transferred to the Machine Gun Corps (MGC) and set out for France.  But early the next morning, their troopship, the SS Leasowe Castle, was torpedoed by a German U-boat, 100 miles out from Alexandria. While the escort ships put out a smokescreen to hamper further attacks, the crew and troops abandoned ship. Some of the lifeboats had been damaged by the explosion so the sloop (minesweeper) HMS Lily appeared through the smoke to take off the remaining troops.  
The sloop was tied to the bows of the sinking troopship, which was more than 8 times its size. With the Leasowe Castle going down by the stern, Albert had to climb up to the bow on all fours and jump onto the swaying deck of the sloop. Minutes later the last bulkheads gave way, and the troopship rapidly sank. 101 men died in the incident. The troops were returned to Alexandria and set out again for France a few weeks later. Albert became a corporal in the MGC and survived the western front to return home at the end of the war.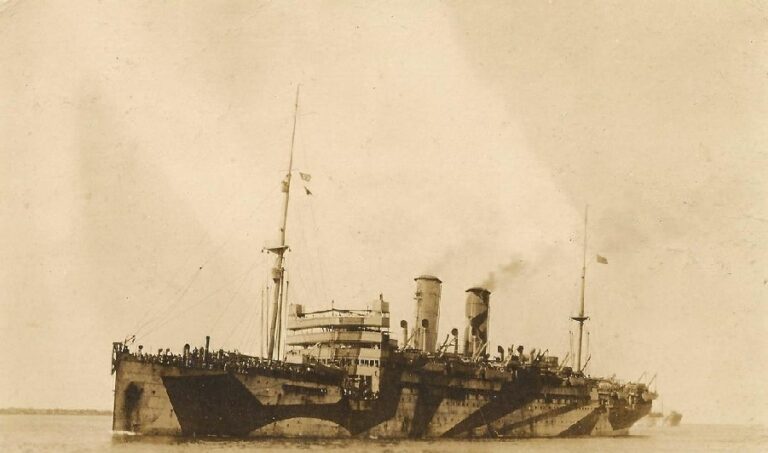 In 1921 the family were still at 141 Sawley Road and Albert was working for his father, who was a partner in a lace business in Brittania Mills.  
Albert married Daisy Freeman in 1928 and they moved to 'The Birklands' (later No 21) Shaftesbury Avenue.