As early as 1889 there were discussions about whether Sawley should have gas or electric street lighting, as it had neither at the time.  This was rather ambitious, as small-scale electrical supplies were only just beginning to appear in Britain.  As it turned out, Sawley only received gas lighting around 1897, about the same time Long Eaton was converting to electricity.   Sawley's first gas lighter was Stephen Smith.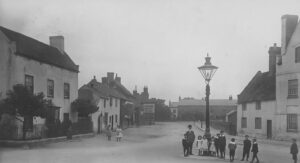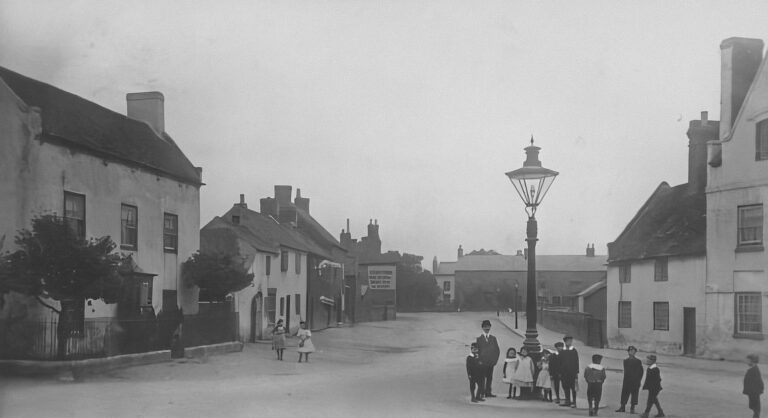 Harrington Mill (off Wilsthorpe Road) set up its own electric lighting system in the 1890s.  In 1899 Long Eaton council decided to install their own electric cables and lighting, powered by a coal-fired generating plant between Milner Road and the Erewash Canal.  This opened in 1903 using a 3-wire direct current system. Three years later it was converted to alternating current. 
The system was a financial success for the council and mains electricity seems to have reached New Sawley about 1913.  In 1931, when the Wilsthorpe Road streetlights were converted from gas to electricity, the provision of electricity to Old Sawley was still being discussed.  
In the 1920s, local power systems were gradually linked up to improve reliability.  In the early 1930s the national high voltage grid was started, using the now-familiar lattice steel pylon, designed in 1928.  Long Eaton's Milner Road generating station closed in 1938. 
Electricity generation was nationalised in 1947, with the Central Electricity Generating Board being set up in 1957, just as new power stations like Castle Donington and Willington were beginning operation.  The Trent valley was ideally placed for these coal-fired stations, as it had the river for cooling water and rail links to the nearby Derbyshire and Nottinghamshire coal fields.  Castle Donington was fed by coal trains via the Trent and Weston line, which kept the Lock Lane level crossing busy.  The power station was closed in 1994 and the site is now a distribution centre. 
Willington power station closed in 1999 but the five cooling towers were preserved from demolition due to the presence of nesting peregrine falcons. 
By the 1960s Britain was a world-leader in civil nuclear power.  But, although nuclear power is reliable, it can't be turned up or down to match daily variations in electricity demand, so there was still a need for oil or coal-fired power stations (before North Sea gas became available, gas was produced from coal, so presumably gas-fired stations wouldn't have made sense).  So, more power stations were built in what was sometimes called 'megawatt valley'. 
Ratcliffe on Soar power station was built between 1963 and 1968 and has now been a feature of the local landscape for over 50 years.  It can produce over 2,100 MW (megawatts) of electricity; enough to power over 2 million homes.  
Ratcliffe's 653ft-high chimney has sulphur and nitrogen oxide filters.  But it still produces a lot of carbon dioxide, so the Government intends to close it.  However, it would take 840 large wind turbines of the type visible at Spondon to produce the same amount of electricity under ideal wind conditions.  And the top of their turbine blades is 50ft higher than the cooling towers!  Under average wind conditions it would need 1,865 of these turbines to replace Ratcliffe.  And when there's little or no wind, it would need another large power station. Which is why Ratcliffe still operates throughout much of the winter.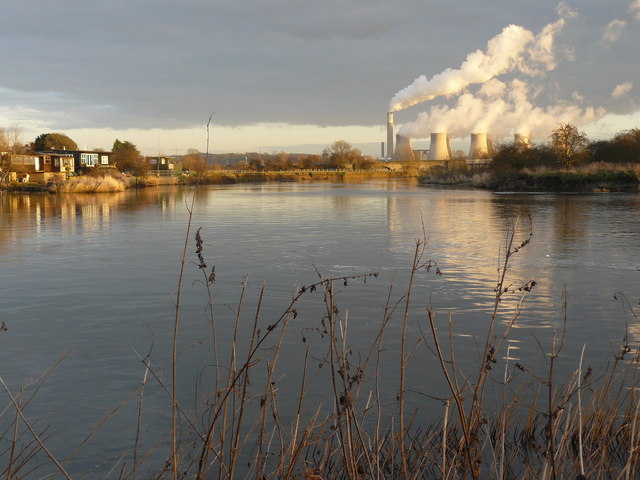 Other ways to provide back-up generation for the grid are being sought, but prolonged low wind conditions often occur during the coldest, shortest, winter days, so it's quite a challenge.  In the meantime, companies are making the most of the high prices in calm conditions by installing gas or diesel-powered 'peak demand' power plants.   
One such plant has been built on the site of the gasometer behind Phoenix Mills on Nottingham Road, Long Eaton.  The actual gasworks, which provided Sawley with 'town' (coal) gas until the switchover to natural North Sea gas in 1970/71, was the other side of the railway and is now the site of the large Tesco store.  Some local people were nervous about the conversion to natural gas.  It's not inherently more dangerous, but it was supplied at higher pressure than town gas and there were reports of pilot lights going out during the changeover period.  There were also complaints that a new pipeline had cut through the roman fort in Sawley, which had just been identified from air photos. 
Nationally, the conversion from town to natural gas involved modifying 40 million appliances and took 10 years (1967-1977).  Town gas was mostly hydrogen whilst natural gas is mostly methane.  Today, there's talk of converting back to hydrogen, but retaining the higher system pressure.