John Roper (1860-1930)
John Roper was born in Sawley in 1860.  When he was born the family were on Church Street, but his family then moved to Jail Yard.  In 1862 John married Hannah Clifford (1863-1931), originally from Barton on the Beans (about 5 miles south of Coalville). 
(John wasn't related (at least not closely) to Councillor Ernest W Roper, after whom the secondary school was named in 1964).
On the census records John and Hannah's address is given Jail/Gaol Yard (later Chantry Place).  Although when their eldest daughter started school in 1890 their address was given as Wilne Lane.  In 1917 their address was 31 Chantry Place.  John worked as a farm labourer, then as a labourer for the Midland Railway.   They had nine children:
Elizabeth Roper (1883-)
In 1911 Elizabeth was living at 41 Chantry Close with William Lowe, a plasterer's labourer, and they had a 3-year-old daughter, Florence Amelia.
James H Roper (1884 – 1943)
James became a clerk and married Sarah Elizabeth Armison in 1907.  They had two children before Sarah died in 1918.  In 1939 James was a publican in Derby.
Ernest William Roper (1887 – 1918)
Ernest was born in Sawley in 1887 but wasn't baptised until 1891 – on the same day as his sister Ruth.  In 1901 he was at home in Sawley, but by 1911 he was living in Rotherham with Alice Guest, a widow, and her two sons.  He was working as an iron turner in a wheel and axle works.
He joined the Army Service Corps in March 1916 and after training to be a driver, he was sent to Salonika later that year.  For 2 years he served in 766 MT (Motor Transport) Company.  He was later transferred to 739th MT Company.   On 4th November he was sent to 79th Field Ambulance with pneumonia.  He died the following day, only 6 days before the end of the war.  
On his records Alice Guest is referred to as his foster (or sometimes, adopted) mother, and he'd clearly been living with them some time.  Although he also named his real mother as his next of kin (although his father was still alive) and gave her address as 3 Church Street, Sawley.   After his death the Guest family denied having any contact details for the Roper family.
Ruth Roper (1890 – 1955)
Ruth married John Doar and moved in with his family in Sandiacre.
George Vincent Roper (1892-1917)
George grew up in Gaol Yard, Sawley but by 1911 (aged 18) he'd moved to Nottingham, where he was working as a taproom assistant at the Cremorne Inn, Queens Walk (one of the few pubs in The Meadows area to survive the 1970s slum clearances). 
During the Great War he joined the Oxford and Bucks Light Infantry at Oxford.  His service record hasn't survived, so we don't know when he joined up or went to France.  But by August 1917 he was serving with 2nd/4th Battalion when they deployed to the St. Julien, northeast of Ypres.  On 22nd Aug they were part of an attack from Capricorn trench towards the 'Winnipeg' – 'Kansas Cross' road.  This was part of the 3rd Ypres campaign, which became known as the Battle of Passchendaele.  
George was killed on 22nd August.  He was 25 years old.  His name is one of the 35,000 on the Tyne Cot memorial with no known grave.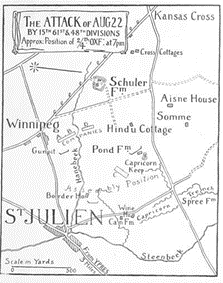 Richard Thomas Roper (1899-1971)
In 1918 Richard started work at Toton Sidings as a dresser, but by 1921 he was working for Carter's mineral water in Sawley as a drayman. He married Sarah Elizabeth Smedley at Long Eaton registry office in 1925.  In 1939 they were living at 31 Tamworth Rd, Old Sawley (next to William Lievers).
Harold John Roper (1900 -1901)
Harold died aged 8 months and was buried in Sawley churchyard.
Doris Alexandra Roper (1902 – 1969)
Doris first married Vincent Arthur Ernest Mogg.  They had 2 children and lived in Roosevelt Ave but Vincent, who worked at the wagon works, died in 1947.  In 1953 she married Thomas Walker.  Her third husband was George Edmund Meads.  They were living on Hey St when Doris died in 1969.
Rosaline Violet Roper         (1905 -1924)
Rosaline married Arthur Aldred in 1924 but died a few months later, aged 20.