At about 4am on 20th January 1931, John Roe of Oakwood Bungalow, Plant Lane got up, complaining of a violent headache and difficulty in breathing.  When he left home half an hour later, his wife assumed he was going to work early.   But he wasn't seen alive again.
When it was realised that he was missing, dozens of villagers made unofficial searches of the riverbank.  On 10th Feb an appeal was broadcast on BBC radio.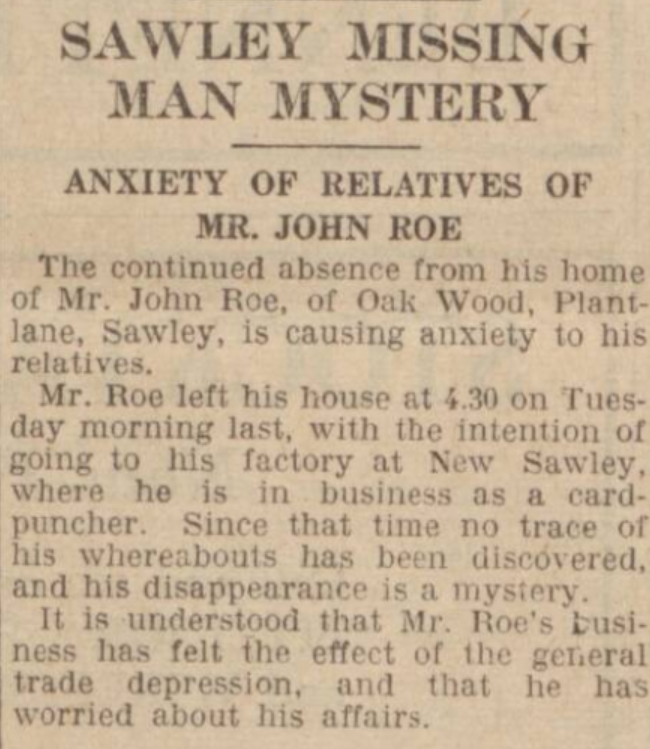 John Roe had been born in Long Eaton in 1872.  In 1895 he married Tacey Ann Clifford from Sawley.  Their daughter, Gladys May, was born later that year.  At first they lived in Co-operative Street, before moving to Myrtle Cottage on Nottingham Road in Sawley.  Their next house was 13 Charnwood Avenue and finally Oakwood on Plant Lane.
John was a Jacquard (lace machine) card maker.  From around 1911 he had his own card punching business at Birchwood Mills (Wilsthorpe Road).  At about the same time, his parents moved to 'Avondale' 81 Wilsthorpe Road.  His father was a lacemaker, working as a foreman for Fletchers works and attended the nearby St Mary's Chapel.  
John suffered from ear trouble.  A short time before his disappearance he'd seen a specialist who advised him to carry on if possible, rather than face a serious operation.
His body was found in the Trent at Beeston on 27th Feb.  It was spotted by a boy on a houseboat, who reported it to the lock-keeper, who called the police.
When the funeral was held at Sawley Church, the blinds were drawn in almost every house in the village.